Unlocking the Future: Intel's Revolutionary Custom Accelerator Chip Pioneers the Path to Encrypted Computing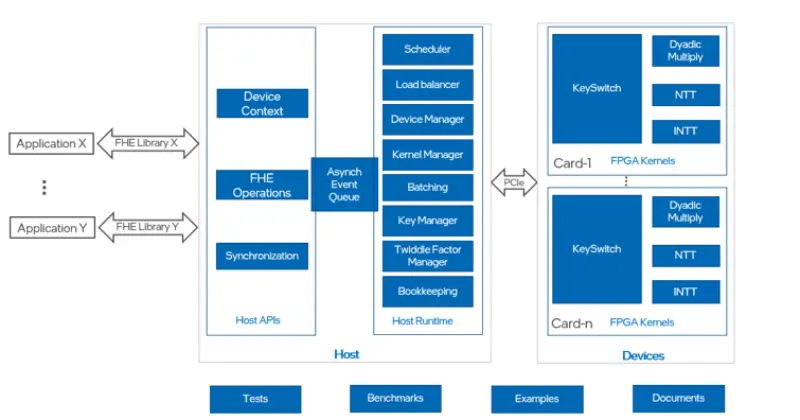 Intel, the renowned semiconductor giant, is making waves in the technology industry once again. The company has announced its plans to develop a custom accelerator chip specifically designed for fully homomorphic encryption (FHE). This groundbreaking technology allows data to be processed and analyzed without ever being decrypted, ensuring unparalleled levels of security and privacy. With this chip, Intel aims to revolutionize the field of encrypted computing.
Fully homomorphic encryption is a cutting-edge cryptographic technique that allows computations to be performed on encrypted data. This means that sensitive information can be processed and analyzed without ever being exposed, providing a new level of data privacy. However, FHE has traditionally been computationally intensive and resource-demanding, making it impractical for many real-world applications. Intel's custom accelerator chip aims to address these challenges by providing optimized hardware specifically tailored for FHE computations.
In addition to the custom accelerator chip, Intel is also developing an encrypted computing software toolkit. This toolkit will provide developers with the necessary tools and resources to harness the power of fully homomorphic encryption in their applications. By making FHE more accessible, Intel is paving the way for widespread adoption of this game-changing technology across various industries, such as finance, healthcare, and cloud computing.
Intel's foray into fully homomorphic encryption is a significant step forward in the quest for secure and private computing. With their custom accelerator chip and software toolkit, the company is poised to empower developers and organizations to unlock the full potential of encrypted computing. As the demand for data privacy continues to grow, Intel's innovation in this field will undoubtedly have far-reaching implications for the future of technology and information security.