Unleashing the Night's Brilliance: The Revolutionary Glow-in-the-Dark Smartwatch Straps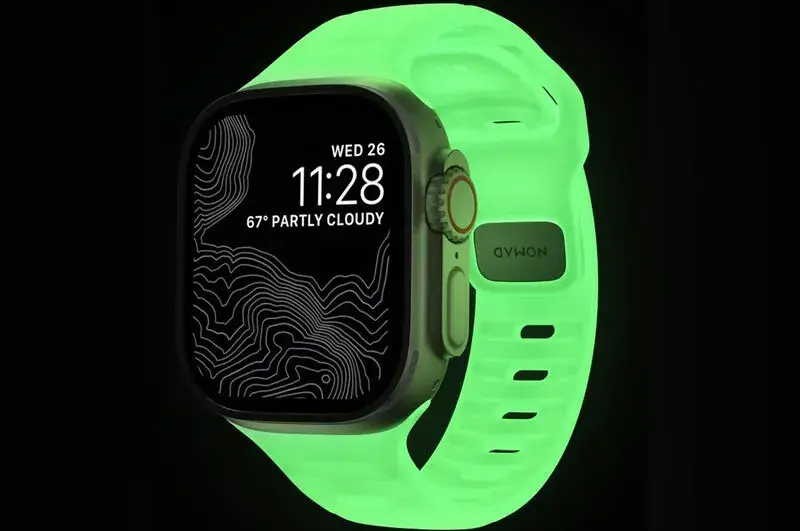 In the world of smartwatches, functionality and style go hand in hand. The latest innovation in this realm comes in the form of the Nomad Sport Band Glow – a glow-in-the-dark smartwatch strap designed specifically for the Apple Watch. This cutting-edge accessory not only adds a fashionable touch to your wrist, but also aims to support active wearers in their quest for exploration.
The Nomad Sport Band Glow is more than just a trendy fashion statement. Its glow-in-the-dark feature sets it apart from other smartwatch straps on the market. This unique attribute ensures that wearers can easily read the time, even in low-light conditions. Whether you're out for a late-night jog or camping under the stars, this functional accessory will keep you connected without compromising visibility.
Designed with the active wearer in mind, the Nomad Sport Band Glow is built to withstand the rigors of an active lifestyle. Made from high-quality silicone, it not only provides a comfortable fit, but also offers durability and resistance to sweat and water. This means you can wear it during intense workouts or outdoor adventures without worrying about damage or discomfort.
The Nomad Sport Band Glow is a testament to the ever-evolving nature of smartwatch accessories. Combining functionality and style, this innovative strap is a must-have for those seeking both practicality and fashion-forward design. So, whether you're a fitness enthusiast or simply someone who appreciates a good-looking accessory, the Nomad Sport Band Glow is sure to add a touch of brilliance to your Apple Watch.