Uncharted Depths: James Cameron's Bold Endorsement of Deep Sea Mining as a 'Less Sinister' Alternative to Land Mining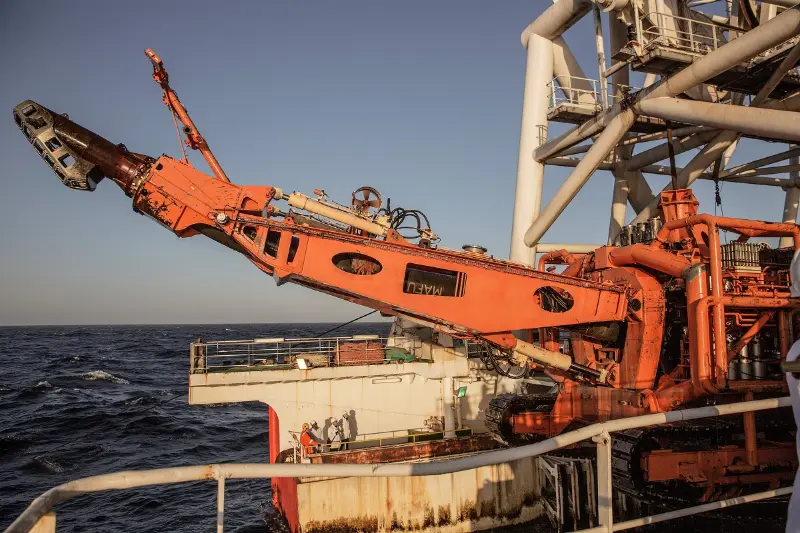 In a surprising turn of events, renowned filmmaker and underwater explorer James Cameron has publicly expressed his support for deep sea mining, stating that it is "less wrong" than mining on land. Cameron's views have raised eyebrows among fellow conservationists, who consider deep-sea mining to be a significant environmental threat.
Cameron's unique perspective stems from his extensive experience exploring the depths of the ocean and witnessing firsthand the devastating impact of terrestrial mining operations. He argues that extracting valuable minerals from the ocean floor could potentially reduce the need for destructive land-based mining, which often involves deforestation, habitat destruction, and pollution.
While Cameron acknowledges the potential risks associated with deep sea mining, including the disturbance of fragile ecosystems and the release of toxic chemicals, he believes that technological advancements and strict regulations can mitigate these concerns. He argues that responsible mining practices, combined with the vastness of the ocean, make it a more sustainable option compared to land-based mining.
However, Cameron's stance has drawn criticism from environmentalists who argue that the long-term consequences of deep-sea mining are still largely unknown. They fear that the exploitation of deep-sea resources could lead to irreversible damage to unique and fragile ecosystems, such as hydrothermal vents and coral reefs, which are crucial for marine biodiversity.
As the debate on deep sea mining continues, it is clear that Cameron's endorsement of this controversial practice has sparked a necessary conversation within the conservation community. Balancing the demand for valuable minerals with the need to protect our oceans requires careful consideration and a comprehensive understanding of the potential environmental impacts. Only through rigorous research, transparent regulation, and open dialogue can we hope to find a sustainable path forward.
Read more at Futurism