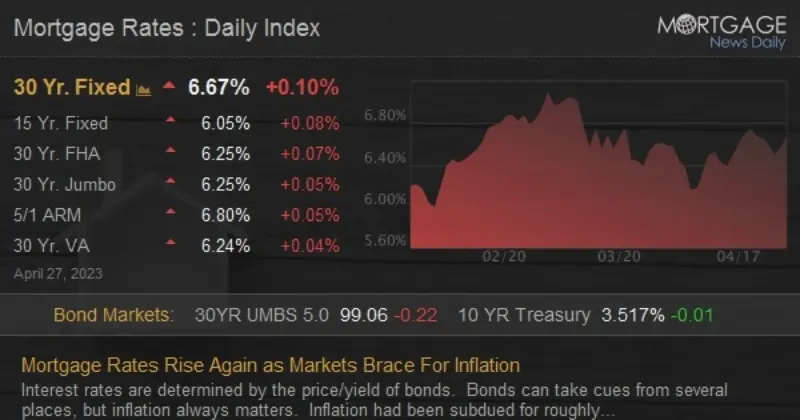 Mortgage rates rose again today as markets brace for inflation. Inflation had been subdued for roughly a decade but has exploded in the post-pandemic era. A series of aggressive rate hikes from the Fed have not solved this problem yet but may be helping to turn the corner.
Today's GDP data suggested that tomorrow's Personal Consumption Expenditures (PCE) might come in higher than expected and bonds lost ground in response – meaning lower bond prices and higher yields/rates, which pushed mortgage rates up accordingly.
Additionally, banking concerns on Monday helped push up mortgage rates earlier this week; however, despite rumors of First Republic Bank failing yesterday, its stock price was stable and the broader banking sector made solid gains today, which also contributed to upward pressure on rates.
As we wait for more data confirming whether or not inflation has turned a corner, it is important to stay informed about any updates related to inflation so you can make an educated decision when it comes time to lock your loan rate with your lender!
Read more at Mortgage News Daily