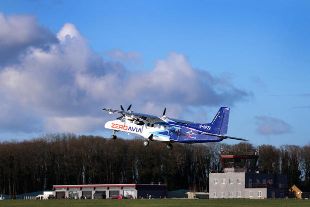 A start-up company, ZeroAvia, has successfully flown the largest-ever hydrogen-electric powered aircraft. The 19-seat Dornier 228 took off from Cotswold Airport in Gloucestershire, U.K., on a flight lasting 10 minutes.
Retrofitted with a prototype hydrogen-electric powertrain, it performed as expected, marking a major milestone for the future of zero-emission aviation. The company counts commercial carriers, including American and United Airlines among its investors as the aviation industry, one of the world's most polluting, invests in technology to decarbonise air travel.
Hydrogen is considered among the most promising alternative fuel sources and Thursday's demonstration marks a major step forward in ZeroAvia's goal of operating commercial routes with its technology by 2025.
Read more at cbsnews.com