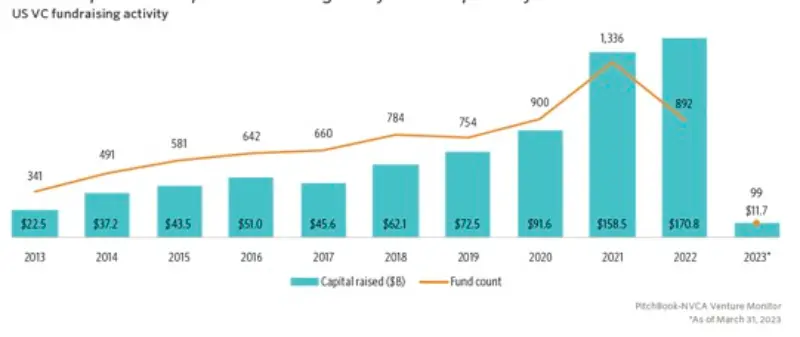 Fundraising by VC firms themselves is at a 10-year low. This means that venture capital firms are not raising as much money for their funds, and thus have less to invest in startups. The lack of fundraising could be due to several factors, including the current economic climate or investor sentiment towards riskier investments like early-stage companies. It also may indicate that investors are more focused on later-stage deals with larger returns rather than investing in smaller companies earlier on.
This lower level of fundraising has implications for entrepreneurs seeking investment from VCs; there is less money available overall, so competition for funding can be fierce and it can take longer to secure a deal. Founders should look into alternative sources of financing, such as angel investors or government grants if they need additional capital quickly or don't have access to traditional venture capital networks.
Overall, this trend highlights the importance of founders doing their research before pitching an idea – understanding how much money VCs have available will help them better prepare their pitch and make sure they stand out from other applicants vying for the same limited pool of resources.
Read more at SaaStr