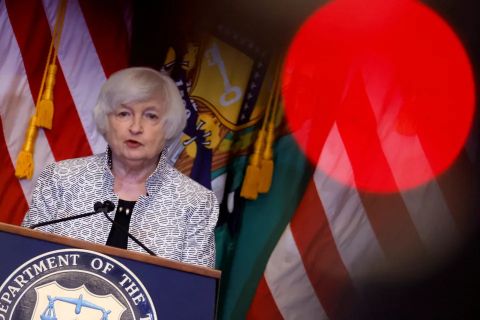 The U.S. government hit its borrowing limit on Thursday, causing the Treasury to activate "extraordinary measures" to keep paying the government's bills.
Treasury Secretary Janet Yellen sent a letter to House Speaker Kevin McCarthy, noting that a "debt issuance suspension period" will begin on Thursday, Jan. 19 and last through Monday, June 5. As part of that, the government will not funnel new investments into the Civil Service Retirement and Disability Fund, as well as suspend investments into a retiree health benefits fund for retired post office workers. Federal retirees and employees will be unaffected by these actions. Yellen said once the debt limit is increased, these funds will be made whole.
Many Republicans have said they will block any attempts to increase borrowing authority in the coming months without deep concessions on spending, while Democrats have vowed to refuse to negotiate over the issue at all. Programs ranging from Social Security benefits to tax refunds to military salaries would be impacted in the event of a default. Economists have warned a default could send the economy into a recession.
Read more at finance.yahoo.com