Unveiling the Shocking Aftermath: The Environmental Warriors of Burning Man Leave a Revolting Trail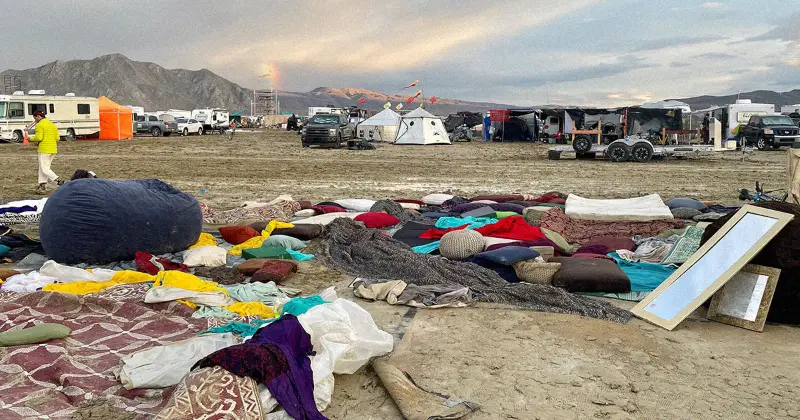 The aftermath of this year's Burning Man festival in the Nevada desert has left a disturbing sight for both organizers and environmentalists alike. Despite the event's reputation for promoting radical self-expression and environmental consciousness, the torrential rain that hit the festival grounds has resulted in a massive amount of trash strewn across the desert. This unexpected turn of events has sparked a discussion about the responsibility of attendees and the need for better waste management practices at such large-scale events.
Burning Man has long been celebrated as a gathering that fosters creativity, self-reliance, and a deep connection with nature. Participants are encouraged to leave no trace, ensuring that the desert is left in the same pristine condition as it was found. However, the heavy rain this year has exposed a troubling reality – the environmental impact of such an event can be devastating, even with the best intentions.
While it is important to note that the festival organizers have made efforts to mitigate the environmental impact of the event, this incident highlights the need for a more comprehensive waste management plan. The sheer volume of trash left behind after the rain indicates that the current measures in place were not sufficient to handle such unexpected weather conditions. Moving forward, it is crucial for Burning Man and similar events to reassess their waste management strategies and invest in more sustainable practices to ensure that the environmental impact is minimized.
The aftermath of this year's Burning Man festival serves as a wake-up call for both attendees and organizers. The festival's commitment to radical self-expression and environmental consciousness must be matched with effective waste management practices. By learning from this experience and implementing necessary changes, Burning Man can continue to be a celebration of creativity while also respecting and preserving the natural environment in which it takes place.