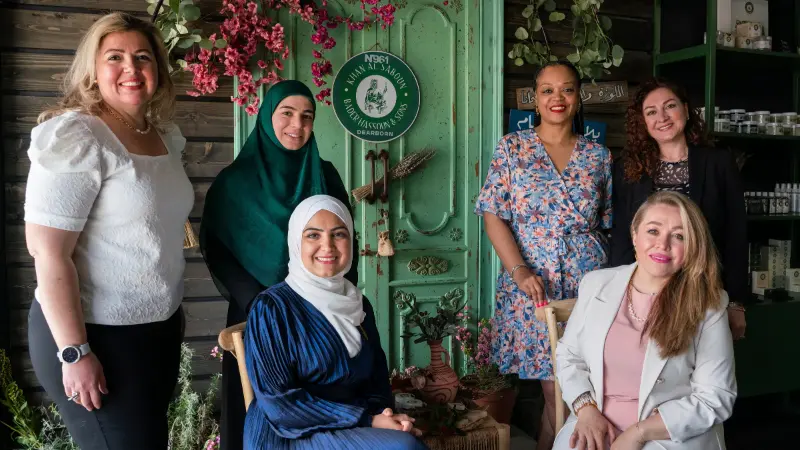 In a world that is constantly evolving, individuals must equip themselves with new skills and knowledge to stay ahead. This is particularly true in the business realm, where adaptability and innovation are key to success. Recently, a group of four women in Dearborn decided to take a leap of faith and enroll in an entrepreneurship class offered by ACCESS, a renowned Arab American community organization. Little did they know that this decision would not only provide them with valuable business skills but also foster a deep sense of connection and empowerment.
The women quickly realized that the entrepreneurship class was more than just a platform to learn about business strategies and marketing techniques. It became a space where they could share their dreams, fears, and aspirations with like-minded individuals. The bonds formed during the class were so strong that the women decided to join forces and create something remarkable together. They organized the Arab American Wedding Fair, a grand event that showcased the vibrant culture and traditions of the Arab American community.
The success of the Arab American Wedding Fair has inspired women to continue organizing more events in the future. Their shared passion for entrepreneurship and their newfound connection have become a driving force behind their ambitions. By utilizing the skills they acquired in the ACCESS class, these women are not only creating opportunities for themselves but also contributing to the growth and prosperity of their community. The story of these four women serves as a powerful reminder of the transformative power of education and the importance of fostering a sense of unity and collaboration among individuals with shared goals.
In conclusion, the journey of these four women from taking an entrepreneurship class to organizing a remarkable event highlights the immense impact that education and connection can have on individuals and their communities. It serves as a testament to the power of stepping out of one's comfort zone and embracing new opportunities. As they continue to plan and execute more events, these women are not only expanding their horizons but also creating a platform for others to showcase their talents and celebrate their cultural heritage. Their story is a true inspiration, reminding us all of the potential within each of us to make a difference.
Read more at Detroit Free Press