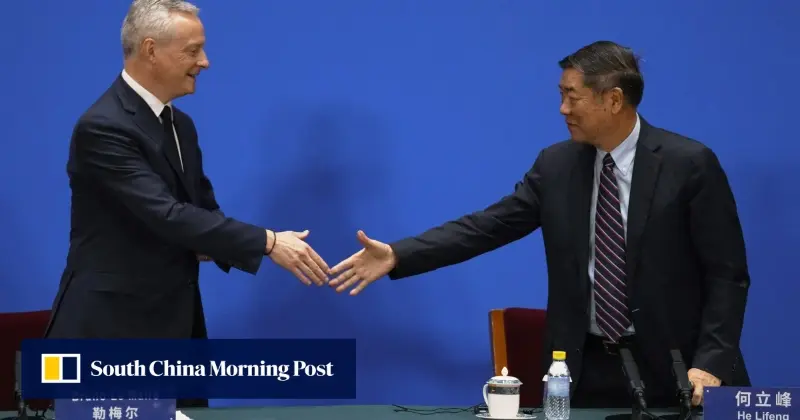 In a recent visit to Beijing, French Economy Minister, Bruno Le Maire, highlighted the importance of addressing supply chain concerns and de-risking in the economic relationship between China and France. Le Maire dismissed the notion of decoupling, emphasizing that the interdependence between the two countries is an undeniable reality. However, he acknowledged the need to address supply chain vulnerabilities, which have been brought to the forefront by the ongoing pandemic and geopolitical tensions.
The COVID-19 pandemic has exposed the vulnerabilities and fragilities of global supply chains, prompting countries to reevaluate their reliance on certain regions. Le Maire's acknowledgment of these concerns reflects a growing sentiment among policymakers worldwide. By focusing on de-risking, countries aim to diversify their supply chains and reduce dependence on a single country or region. This approach not only enhances resilience but also mitigates the potential impact of geopolitical tensions on trade and economic relations.
While de-risking is a priority, Le Maire's visit also underscores the importance of maintaining and expanding market access between China and France. Despite occasional trade disputes and geopolitical tensions, both countries recognize the immense economic potential of their relationship. China remains an attractive market for French businesses, and France is keen on leveraging its expertise in sectors such as luxury goods, agriculture, and technology. By fostering a mutually beneficial economic partnership, both countries can capitalize on their respective strengths and drive sustainable growth.
The discussions between China and France on de-risking and market access highlight the need to address supply chain vulnerabilities and enhance economic cooperation. While decoupling may be an illusory concept, the importance of diversifying supply chains and reducing dependence on a single country is recognized by both parties. Moreover, the focus on expanding market access reflects the economic potential and mutual benefits that can be derived from a strong bilateral relationship. As global dynamics continue to evolve, countries must adapt and collaborate to ensure a resilient and prosperous future.
Read more at South China Morning Post