Unlock Seamless File Transfers with Google's Nearby Share on Windows and Android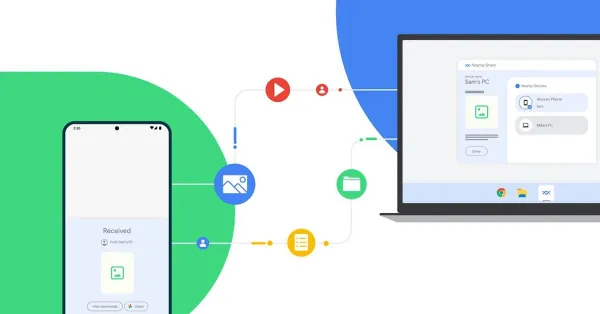 Google has recently released a new feature called Nearby Share to make transferring files between PC and Android devices easier. The beta version of the app is now available in the United States and other countries.
Nearby Share allows users to quickly transfer photos, videos, documents, links, and more from one device to another without having to use Bluetooth or Wi-Fi connections. It works by using location services on both devices so that they can detect each other when nearby. Users will be able to choose who they want their files shared with as well as control how visible their device is to others looking for file transfers.
The convenience of this feature makes it easy for people who are constantly downloading or sharing large amounts of data across multiple platforms since all you need is two compatible devices within proximity for it to work properly. This also means that there's no need to worry about any extra costs associated with data usage since Nearby Share doesn't require an internet connection either!
Overall, Google's Nearby Share promises a secure way of transferring files between PCs and Android phones while still being incredibly user-friendly at the same time – making it a great addition to anyone looking for an efficient way to share information quickly without hassle!
Read more at The Verge