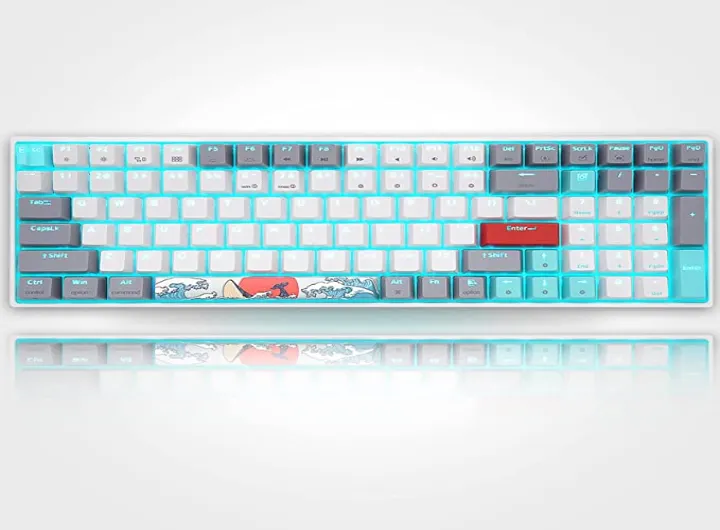 The keyboard market is constantly ripe with new innovations, and that exciting trend has produced many impressive designs over the years. One of these innovative takes on keyboards has to be the Gasket Mount keyboard design.
This keyboard mounting style uses an interesting method to achieve a soft, flexible, and satisfyingly quiet keyboard while typing. Gasket Mounting uses a gasket material on your keyboard plate's top and bottom edges without being in direct contact with your case. Doing this can significantly reduce the occurrence of vibrations within your keyboard case, giving you a very satisfying typing experience.
Now that we've piqued your interest, here are some of the best Gasket Mount keyboards we've come across in our exploration. Any of these boards should easily provide a blissful typing experience.
1) Skyloong SK96 Lite Gasket Mount Keyboard
Skyloong has hit the ground running with an excellent selection of keyboard releases over the years. One of the more exciting designs you should buy is the SK96.
This Lite Gasket Mount Keyboard is made in a way that practically eliminates the noise from hitting the PCB with your switches. If you're not sure what that implies, it basically means that the gasket used for this keyboard, in particular, is remarkably good at noise elimination, providing you with a soft and silently precise typing experience.
The SK96 also does a great job when it comes to lighting, providing those sweet aesthetics we love on keyboards. The Dynamic RGB effect reveals itself when you look at how the Gateron G Pro switches can achieve gradients with its lighting instead of a plain color. This form of RGB is much more appealing to the eyes at any viewing angle.
Additionally, the hot-swappable switches are great for the tinkerers out there. You can easily experiment and try out other switches if you're up for it.
In a rare treat, the SK96 also comes with the 3-layer SKYLOONG software that ultimately simplifies how you can customize lighting effects, key layouts, and macro keys on your keyboard.
Another thing you will be impressed to learn about is the Doubleshot PBT Keycaps which are long-lasting and designed to retain their texture even after intense use from typing and gaming. The Doubleshot is a process that creates transparent legends capable of letting light through the keycaps.
The SK96 is a very satisfying package overall, and the competitive pricing will appeal to buyers who are new to the custom keyboard experience.
2) Keychron Q1
A flagship keyboard from Keychron, the Q1 is a vivid image of what a well-made custom keyboard can do. This device features some heavy-duty components that catapult it to the upper tier of mechanical keyboards.
The Q1 has a hot-swappable PCB which is already a standard with mechanical keyboards. Still, it is extra satisfying on this one in particular because the switches are south facing, which implies that your backlight will be quite dim. Still, your tradeoff is that you won't face compatibility issues, especially against cherry profile keycaps.
The gasket mount design is the standout premium feature on Keychron's Q1 keyboard. It is placed within an aluminum case, creating a level of stability that enhances the purity of every keystroke. You also can add a custom badge or a programmable knob, enhancing your experience further.
The Q1 is Keychron's first foray into QMK and VIA compatibility in the more unexplored territory, giving the keyboard software support. This opens a whole new door of ideas as QMK and VIA are constantly being improved, so the customization ability will only increase over time.
With the Keychron Q1, there are two main options to choose from. The first is a more barebones type of feel where you get to make the experience yours, while the second is a prebuilt option that is also quite satisfying if you're not too versed in the custom keyboard market.
3) Angry Miao Cyberboard R2
The Cyberboard from Angry Miao is an entirely new game-changer that has impressed many mechanical keyboard enthusiasts. It has a whole new addition that we haven't seen on a mechanical keyboard yet with its customizable LED Matrix. The Cyberboard opens up a whole new world of possibilities that we haven't quite fathomed yet by adding this feature.
Looking at the history of Angry Miao, it shouldn't be a surprise that the Cyberboard exists. This company has its roots in the smartphone industry, and the LED Matrix makes this pretty clear. Users can program what the Cyberboard displays through the proprietary software. The Cyberboard is a genuinely stylish design, and it comes in different colors that can match the different keycap sets you can choose from.
Along with the unique looks, you also get a lot of noteworthy features packed into this keyboard. This includes the highly coveted gasket-mounted design that simply makes the package more exciting than the competition.
An aluminum case is also used to give the entire design a secured and sturdy feeling. 5-pin hot-swap compatibility is present with this keyboard, making experimenting with switches more accessible than ever.
Be sure to get the Cyberboard R2 or R3, as those are the models equipped with the gasket mount design. If you want a keyboard that fully hands over customization keys, you will easily reach new heights by using the Cyberboard. The futuristic design and amazing quietness of the Gasket Mount are simply superb!
4) Ikki68 Aurora
A budget-friendly option like many of the other keyboards on this list, you can't go wrong with selecting the Ikki68 Aurora. It has a gasket-mounted keyboard system that comes with a special modular twist. This is the new "variable gasket mounted system," which means that users can install four different chips to change the sound profile when typing with the keyboard.
Thanks to the gasket-mounted design, you can achieve a very quiet profile while using this keyboard. However, the Ikki68 can be bouncier or softer if you want, and that is done by removing the chips according to your personal preferences. The chips are a smart way to allow users to truly choose the sound of their keystrokes.
Hot-swapping with the Ikki68 is also slightly unconventional. Your layout for the keyboard includes split keys for the right shift, left shift, spacebars, backspace, and enter keys. By making it this way, your layout can be as unique as you want it to be.
The keyboard sports some other interesting details, including a polycarbonate case design and an underglow approach to RGB lighting. The keyboard's overall compact and retro look is translated nicely, and it feels incredible to type with it.
Out of all the features included, we think that the gasket mounting stands out, and a keyboard with this mounting design is a joy to work with, especially when typing for more extended periods.
5) MelGeek Mojo68
When looking for an ideal gasket mount keyboard to purchase, the Mojo68 from MelGeek is a good choice. This keyboard has an eye-catching design and many features that will easily excite the savviest enthusiasts. This keyboard has three keycap profiles you can choose from, along with five switches. By choosing to use it, you're pretty much setting yourself up for a good time.
It has a gasket-mounted design that basically guarantees stability when typing. In particular, this gasket is called PORON padding, and it can eliminate vibrations and sounds when the keys are pressed.
It is not 100%, but it still does a solid job compared to top-mounted keyboards. Hot-swapping the switches is something that can be achieved seamlessly with the Mojo68. The sockets are easy to use and sure to work with five-pin switches.
Speaking of switches, the keycaps are quite large, allowing users with bigger hands to finally thrive while typing. The caps are at 1.4mm, making key travel a tad bit more satisfying for typists with a particular interest in feeling the intensity of every keystroke.
As a wired keyboard option, it is impressive enough to be in contention against other wired and wireless options, making a mark even among the most expensively backed options we've seen. It is a dream keyboard for modders, and it will surely be able to survive through extensive use.
Conclusion
Gasket-mounted keyboards are some of the most innovative things we've seen in the keyboard market for a while. With this type of design, we can finally get devices that are a lot more stable and satisfying to type on. If you're the type that embraces quietness, customization, and stability, you can't go wrong with any of our picks!