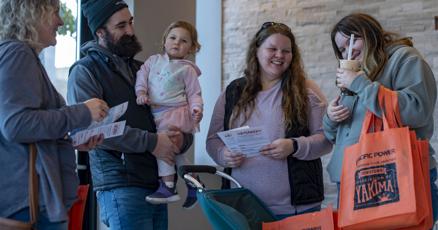 Barbie Wood, along with her daughter and husband, spent Saturday morning shopping in downtown Yakima as part of Small Business Saturday. They were carrying orange tote bags filled with items from shops like The Little Soapmaker and Churchill's Booklovers' Haunt.
Wood said the Small Business Saturday activities helped draw them out to do some local Christmas shopping.
"There are some new places we've come across," Wood said. "We knew where we were going, but I have seen a few new things that I might have to go check out."
Tucked in between Black Friday and Cyber Monday, two days when sales for big box and online retailers like Walmart and Amazon soar, Small Business Saturday highlights the importance of the small and local businesses that help make up a community.
Downtown Association of Yakima organized the event in Yakima, which had 37 businesses participating. Using a passport system first employed by DAY in 2019 during the city's first Small Business Saturday, shoppers were able to get passports stamped to qualify for prize drawings.
During the first two hours of the event, the DAY's check-in stations reported about 90 participants, with the number continuing to grow as the day went on.
Dozens of signs like these dotted the streets of downtown Yakima on Nov. 26 in celebration of Small Business Saturday. Participating businesses were asked to put one outside of their establishment. In total, 37 businesses took part in Small Business Day 2022. 
Shopper Jared Heimbach of Yakima said he has participated in Small Business Saturday since DAY first started the event.
"I think it's important to support local businesses and to buy local. There are a lot of nice shops in Yakima," he said. "Small businesses are usually run with more care and treat the customer with respect. They help keep money circulating inside the city itself. I'd rather pay my neighbor for a coffee than a corporation."
Umapon Lothong, who spoke on behalf of her mother, Chalisa Weippert, chef and owner of the Thai House restaurant on Second Street, said small businesses bring a level of care and authenticity that chain restaurants can't compete with.
&Tea store manager Daniella Baraja takes an order from a customer participating in Small Business Saturday on Nov. 26. 
"Smaller restaurants like the Thai House feel a lot more like home rather than having everything be so fast and rushed, you know? We definitely make things fresh and from scratch so you get the full experience of feeling like you're eating at home, that's what we try to do here," Lothong said.
Lothong said events like Small Business Saturday help raise awareness of businesses like the Thai House. Less than an hour after opening, Lothong said 12 visitors had stopped by the restaurant either looking for something to eat or trying to get their passports stamped.
For &Tea, a tea shop downtown that opened in the spring of this year, Small Business Saturday was a success. The shop's seating area was full for much of the morning with the occasional line forming.
Store manager Daniella Barajas said days like this one give her hope for the future of small businesses.
"I feel like days like these are important because they help bring the community together and show us that as a small town, we are united and we don't have to rely on large corporations for everything we consume. Small businesses can do it too," Barajas said.
Mike Fong, a regional administrator for the U.S Small Business Association speaks with Toppenish Mayor Elpidia Saavedra about the wide range of produce available at Tienda La Tapatia during a tour of the Yakima Valley in celebration of Small Business Saturday on Nov. 26.
SANTIAGO OCHOA Yakima Herald-Republic Kristi Foster, manager of the Wheatland Bank in downtown Yakima and a member of the DAY board of directors, spent her morning at one of the three check-in areas downtown. Foster pointed out the fact small businesses make up 99.9% of all businesses in the United States.
Though larger corporations are more visible and have a widespread presence, small businesses account for 47% of all private sector employees or about 61 million people, according to the U.S Small Business Administration.
"For us in the downtown association, the importance is having people come down and discover what's really down here," Foster said. "We have so many people that when they start, they're here just for the drawing but then as they go to some of the shops they start saying 'oh my gosh, I didn't know that was there.' There is so much to offer downtown, and we want people to see that."
. . .
Read more at www.yakimaherald.com