Revolutionizing Warfare: Military Mobile Computing Systems Market Set to Skyrocket by USD 1,387.07 Million | Unleashing the Power of ISR Operations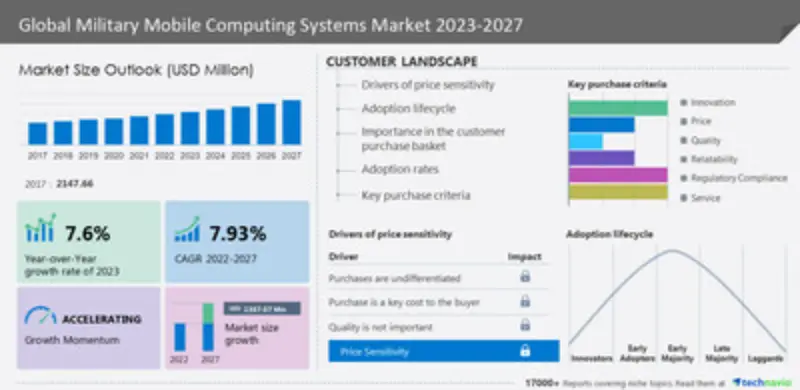 The military mobile computing systems market is set to experience substantial growth in the coming years, according to a recent report by Technavio. The market is projected to grow by USD 1,387.07 million from 2022 to 2027, with a compound annual growth rate (CAGR) of 7.93%. This growth can be attributed to the increasing focus on intelligence, surveillance, and reconnaissance (ISR) operations, which require advanced mobile computing systems for effective data collection and analysis.
North America is expected to account for a significant portion of the global market growth, with an estimated 43% share. The United States, in particular, is playing a pivotal role in driving this growth, thanks to its substantial investments in defense research and development. The US government's commitment to modernizing its military infrastructure and enhancing its ISR capabilities has created a favorable environment for the adoption of mobile computing systems in the defense sector.
The military mobile computing systems market offers immense opportunities for technology providers, as defense organizations worldwide seek innovative solutions to enhance their operational efficiency and situational awareness. These systems enable military personnel to access critical information and communicate seamlessly in the field, improving their decision-making capabilities and overall effectiveness. As the demand for ISR operations continues to rise, the market for mobile computing systems is expected to witness sustained growth, providing a lucrative avenue for companies operating in this sector.
In conclusion, the military mobile computing systems market is poised for significant expansion in the coming years. With increasing investments in defense R&D and a growing emphasis on ISR operations, there is a rising demand for advanced mobile computing solutions in the military sector. As technology providers continue to innovate and offer cutting-edge solutions, they stand to benefit from the lucrative opportunities presented by this market.
Read more at Yahoo Finance