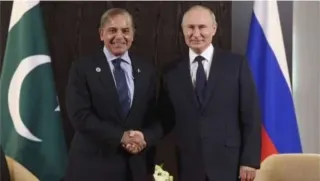 Pakistan has recently secured a major bailout package from Russia, despite the latter's betrayal in the past. This agreement will allow Pakistan to purchase oil at the same discounted price as India.
A Pakistani minister said that Islamabad and Moscow have agreed on many matters related to this deal and that Islamabad will place its first order for crude oil next month. The consignment is expected to reach within 26-27 days of placing the order, which comes as a relief for cash-strapped Pakistan.
The country had been facing an acute shortage of fuel due to lack of funds and was actively seeking help from other countries, including Russia, since last year when it defaulted on payments towards Saudi Arabia's state-owned energy giant Aramco over rising debt obligations amid economic crisis triggered by Covid 19 pandemic.
This new development brings much-needed respite for Pakistan's economy, which has been struggling due to low foreign reserves, a high inflation rate, and an increasing external debt burden among other factors in recent years. It is hoped that this bailout package would prove beneficial not only economically but also politically between both nations which have had strained relations in the past few decades.
Read more at Firstpost