New York's Penn Station Transforms into an Enigmatic Afro-Futurist Gateway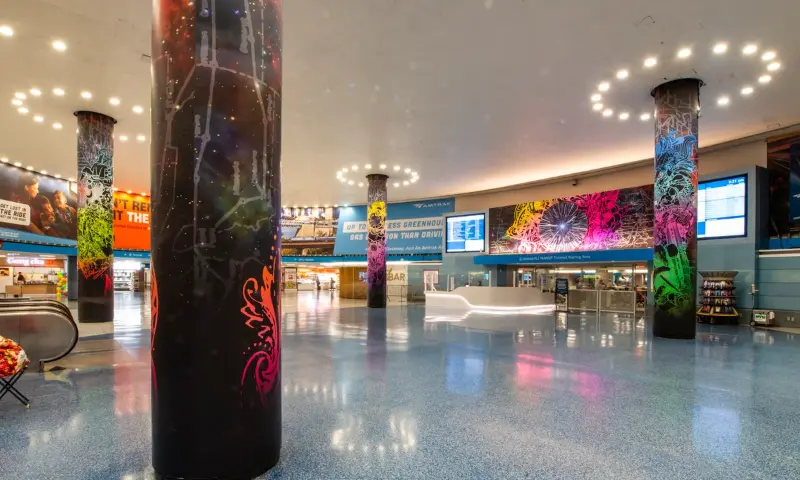 In a city known for its vibrant art scene, New York's Penn Station is making waves with its latest addition – an Afro-futurist portal. Despite the uncertainty surrounding the station's future, this innovative art installation is capturing the attention and imagination of commuters and art enthusiasts alike.
Penn Station has long been a symbol of New York's bustling energy and constant movement. As political negotiations continue to determine the fate of this iconic transportation hub, the Afro-futurist portal serves as a temporary escape from the chaos. The installation transports visitors to a world where technology and African culture seamlessly merge, offering a glimpse into a future where imagination knows no bounds.
The choice of an Afro-futurist theme is particularly significant in a city as diverse as New York. It celebrates the rich cultural heritage of the African diaspora while also envisioning a future where people of color play a central role in shaping society. By placing this portal at the heart of one of the city's busiest transit hubs, the installation challenges traditional notions of art and invites viewers to engage with the concept of a more inclusive and progressive future.
As New Yorkers navigate the hustle and bustle of Penn Station, they are now greeted by this thought-provoking art installation. While the station's future remains uncertain, the Afro-futurist portal serves as a reminder of the power of art to transcend boundaries and inspire change. It is a testament to the resilience and creativity of the city's artists, who continue to find ways to bring beauty and meaning to even the most unlikely of places.