Journey to the Moon: Behold the Mighty Orion Spacecraft, Ready to Carry Artemis Astronauts (Exclusive Photo Revealed!)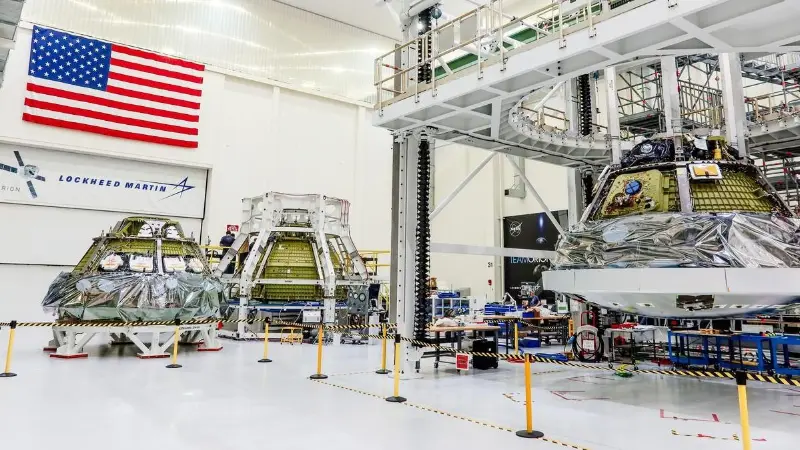 In a remarkable display of technological prowess, three Orion spacecraft have been unveiled, ready to transport Artemis astronauts on a meaningful journey back to the moon. The sight of these sleek and powerful vessels, gathered together in an assembly room, is a testament to the ingenuity and determination of the engineers and scientists involved in the Artemis program.
The Orion spacecraft, developed by NASA, is the cornerstone of the Artemis mission, which aims to return humans to the moon by 2024. These state-of-the-art vehicles are designed to carry astronauts safely to lunar orbit, where they will rendezvous with the Lunar Gateway, a small space station that will serve as a staging point for lunar missions.
Each Orion spacecraft is a marvel of modern engineering, equipped with cutting-edge technology and built to withstand the harsh conditions of space travel. These vehicles can carry up to four astronauts, providing them with life support, communication systems, and a reliable means of transportation to and from the moon.
As we gaze upon the sight of these three Orion spacecraft, we are reminded of the incredible feats humanity can achieve when we set our sights on the stars. The Artemis program represents a bold step forward in our exploration of space, and these spacecraft stand as a symbol of our unwavering commitment to pushing the boundaries of what is possible.
In conclusion, unveiling these three Orion spacecraft is a significant milestone in the Artemis program. They represent the culmination of years of hard work and dedication and serve as a testament to the remarkable capabilities of human ingenuity. With these spacecraft at their disposal, Artemis astronauts will embark on a historic journey, paving the way for future lunar exploration and inspiring generations to come.
Read more at Space.com