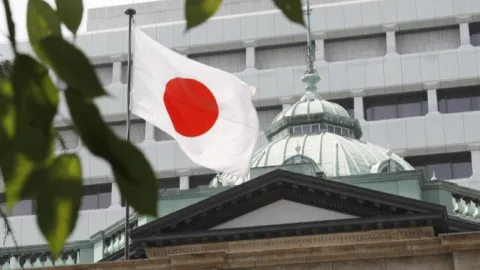 Business confidence among major Japanese manufacturers has taken a sharp downturn, according to the Bank of Japan. The sentiment index for March fell to its lowest level in over two years and marked the fifth consecutive quarter of decline. This is attributed to higher raw material costs and fears about slowing global economic growth.
The BOJ's Tankan survey found that large manufacturers' sentiment worsened from 12 points in December 2018 to 7 points this month, which was below economists' median forecast of 10 points. Large non-manufacturers also saw their outlook deteriorate from 17 points last quarter down by 4 points to 13 this time around; again lower than analysts had predicted at 15 points.
Smaller companies were not spared either as both manufacturing firms and other businesses reported declines in business confidence levels compared with three months ago – 8 points versus 11 previously for makers while non-manufacturers dropped 1pointto 14from 15in December 2018. Overall, these figures indicate a weakening economy across all sectors within Japan due largely to external factors, such as rising input prices and slower global demand growth prospects.
Read more at Kyodo News+