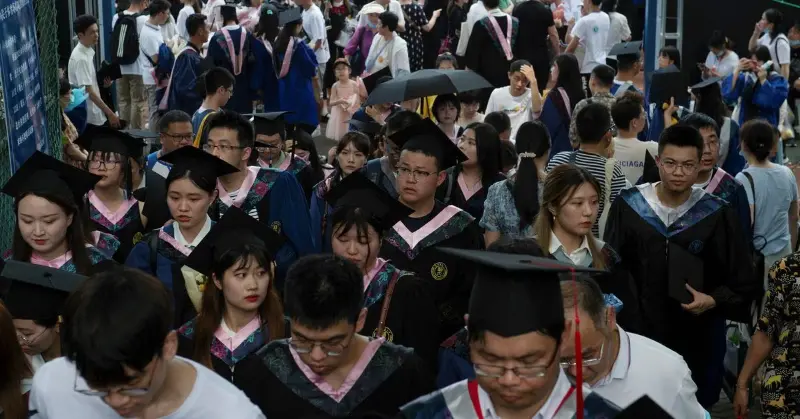 In a surprising turn of events, a significant number of Chinese graduates are making the decision to leave the bustling metropolises of China and return to their hometowns. According to state media reports, nearly half of these graduates are heading back within just six months of completing their studies, primarily due to the lackluster job market. This trend sheds light on the challenging circumstances faced by young professionals in the country, as well as the shifting dynamics of China's economy.
The allure of the big cities, with their promise of lucrative job opportunities and a fast-paced lifestyle, has long been a magnet for ambitious graduates. However, the current economic climate has thrown a wrench into these aspirations. As the job market sags, competition for positions has intensified, making it increasingly difficult for fresh graduates to secure stable employment in the major cities. Faced with limited options and mounting pressure, many are choosing to return to their hometowns, where they hope to find a more favorable environment for career advancement.
This exodus from the cities has broader implications for China's economy and social fabric. The concentration of talent and resources in the megacities has been a driving force behind the country's rapid development over the past few decades. Now, as graduates disperse back to their hometowns, the challenge lies in ensuring that these smaller communities can provide the opportunities and support necessary for their growth. It also raises questions about the future trajectory of China's economy and the potential impact of this talent drain on its global competitiveness.
The increasing number of Chinese graduates returning to their hometowns within six months of graduation reflects the challenging job market conditions in the country's mega-cities. This trend underscores the need for policymakers to address the issues of unemployment and underemployment among young professionals. Furthermore, it calls for a reevaluation of the urban-centric development model that has driven China's growth so far. As these graduates seek opportunities closer to home, it remains to be seen how this shift will shape the future of China's economy and society.
Read more at Reuters