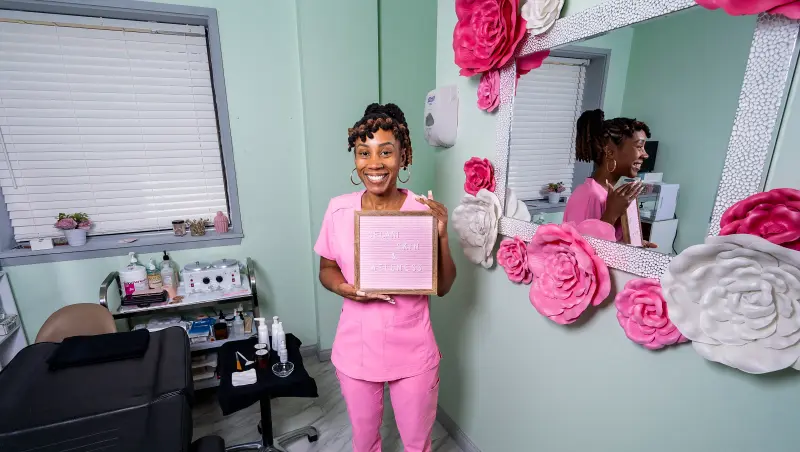 In a world where self-care is often associated with luxury and exclusivity, Brittney Rodriguez, the founder of CeLani Skin & Wellness, has emerged as a beacon of hope for working-class women. After experiencing postpartum depression, Rodriguez realized the importance of prioritizing one's well-being and embarked on a mission to provide affordable and accessible self-care services to her community. Her dedication and passion have now been recognized as she emerged victorious in a small business competition.
The story of CeLani Skin & Wellness is not just about a business venture, but a deeply personal journey. Rodriguez's struggle with postpartum depression catalyzed her entrepreneurial spirit. She understood the immense pressure and demands placed on working-class women, who often sacrifice their well-being for the sake of their families and careers. This realization fueled her determination to create a space where these women could prioritize their self-care without breaking the bank.
Winning the small business competition is a testament to Rodriguez's vision and the impact she has made on her community. It is a recognition of her dedication to breaking down the barriers that often prevent working-class women from accessing wellness services. CeLani Skin & Wellness stands as a symbol of empowerment, offering a range of services tailored to meet the needs of its clientele. From affordable facials to rejuvenating massages, the spa provides a haven for women to relax, recharge, and invest in their well-being.
In a society where self-care is often reserved for the privileged few, Brittney Rodriguez and CeLani Skin & Wellness have shattered this notion. With her inspiring journey and commitment to providing affordable self-care services, Rodriguez has proven that wellness is not a luxury, but a necessity for all. Her victory in the small business competition marks a significant milestone in her mission to uplift and empower working-class women, reminding us all of the transformative power of self-care.