East Asian Powerhouses Unite in Silicon Valley: Kishida and Yoon Forge Tech Alliances and Cooperation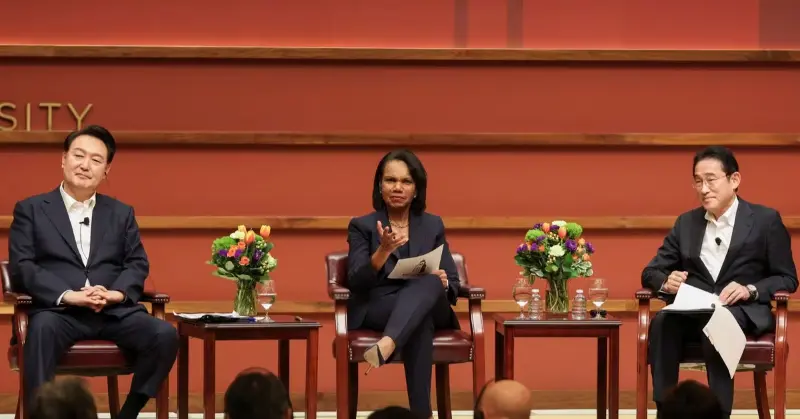 In a significant display of cross-border collaboration, South Korean President Yoon Suk Yeol and Japanese Prime Minister Fumio Kishida engaged in a fruitful discussion on technology and cooperation during a roundtable event held in Silicon Valley. The leaders emphasized the importance of clean-energy supply chains, quantum computing, and other innovative technologies in shaping the future. This meeting represents a promising step towards strengthening ties between the two nations and fostering a conducive environment for technological advancements.
Clean-energy supply chains have gained immense importance in recent years, with countries worldwide striving to reduce their carbon footprint and transition to sustainable energy sources. President Yoon and Prime Minister Kishida's commitment to cooperation in this area demonstrates a shared vision for a greener future. By pooling resources and expertise, South Korea and Japan can accelerate the development and implementation of clean-energy technologies, leading the way towards a more sustainable world.
Another area of focus during the roundtable was quantum computing, a cutting-edge field that holds immense potential for revolutionizing various industries. Both leaders recognize the significance of quantum computing in driving innovation and economic growth. By fostering collaboration in this domain, South Korea and Japan can leverage each other's strengths and contribute to advancements in quantum computing, ultimately benefiting their respective economies and the global technological landscape.
The meeting between President Yoon Suk Yeol and Prime Minister Fumio Kishida in Silicon Valley marks a positive development in the relationship between South Korea and Japan. By focusing on clean-energy supply chains, quantum computing, and other innovative technologies, the leaders have demonstrated their commitment to fostering cooperation and driving progress. This collaborative effort in the heart of the tech world sets a promising precedent for future advancements and paves the way for a mutually beneficial partnership between the two nations.
Read more at Reuters