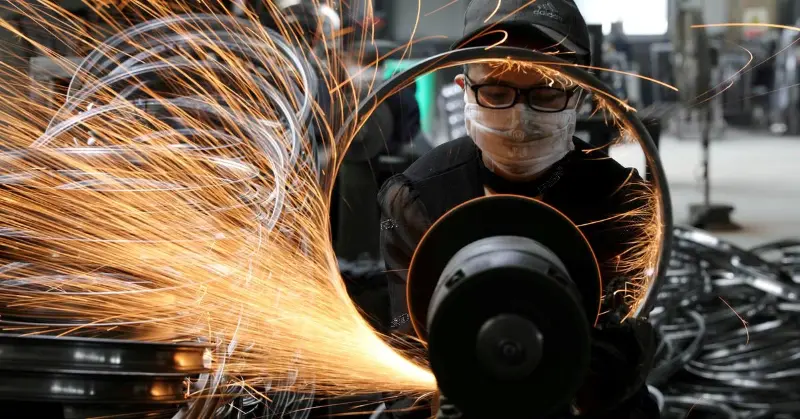 China's industrial sector continues to face challenges as profits at industrial firms fell for the seventh consecutive month in July, marking a 6.7% decline compared to the same period last year. This extended slump comes as the post-pandemic recovery in the world's second-largest economy loses momentum, with weak demand putting further pressure on companies. The data underscores the ongoing struggle faced by China's industrial sector and raises concerns about the country's economic outlook.
The prolonged decline in industrial profits can be attributed to a combination of factors. First and foremost, the global economic slowdown caused by the pandemic has significantly impacted demand for Chinese goods, particularly in key export markets. As major economies continue to grapple with the effects of the virus, consumer spending remains subdued, leading to reduced orders and lower profit margins for Chinese industrial firms.
Furthermore, the Chinese government's efforts to shift towards a more consumption-driven economy have also played a role in the industrial sector's struggles. The authorities have implemented policies aimed at reducing overcapacity and curbing pollution, which have resulted in factory closures and production cuts. While these measures are necessary for long-term sustainability, they have created short-term challenges for industrial firms, particularly those in traditional heavy industries.
The decline in industrial profits raises concerns not only for China but also for the global economy. As a major player in global supply chains, any slowdown in China's industrial sector has ripple effects on businesses and economies worldwide. It also highlights the need for policymakers to strike a delicate balance between promoting sustainable growth and supporting industries during challenging times.
The continued slump in China's industrial profits reflects the ongoing challenges faced by the sector amid weak demand and a faltering post-pandemic recovery. The data underscores the need for policymakers and businesses to navigate these challenging times carefully. As the global economy remains uncertain, finding the right balance between long-term sustainability and short-term support for industries is crucial for China's economic outlook and its role in the global supply chain.