Awe-Inspiring Plasma Tornado on the Sun's Surface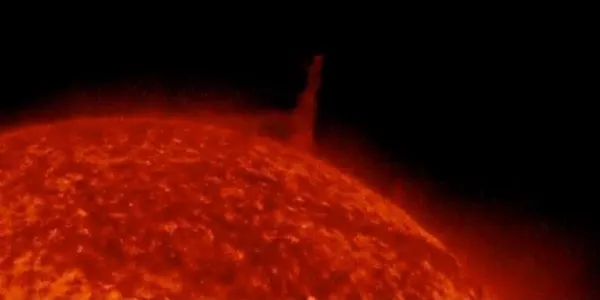 We are in awe of the massive tornado of plasma that has been spotted on the surface of the Sun. This ginormous phenomenon is a swirling mass, violently raging within a powerful magnetic structure. Scientists have never seen anything like it before and are amazed by its sheer size and intensity.
The tornado was first observed using NASA's Solar Dynamics Observatory (SDO) spacecraft, which captures high-resolution images from space with unprecedented clarity. It measures over 300,000 miles long – around 1/3rd of Earth's circumference – making it one of the largest solar tornadoes ever detected!
This incredible event is caused by an intense interaction between two opposing magnetic fields known as 'magnetic reconnection,' which creates an immense amount of energy resulting in this spectacular sight we can observe today from our planet Earth! The tornado is estimated to be traveling at speeds up to 186,000 mph – much faster than any terrestrial twister could ever reach here on our planet!
Scientists believe that these types of events may play an important role in heating the material inside sunspots and helping them form into larger structures, such as prominences or filaments, further out into space away from the sun itself. We can only imagine what other amazing discoveries await us when observing this dynamic star we call home: The Sun!
Read more at Futurism