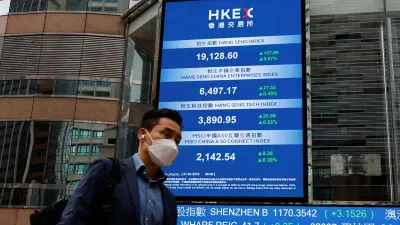 Stocks in the Asia Pacific region rose on Tuesday as investor concerns about global banking turmoil eased. This was due to a whirlwind of intervention by policymakers and industry players, which sought to address the issues that had been causing instability in financial markets worldwide.
The Japan Nikkei 225 index saw its biggest one-day gain since October 2008, rising 2.6%. The Hong Kong Hang Seng Index also increased by 1%, while South Korea's KOSPI gained 0.9%. Australia's benchmark S&P/ASX 200 index closed up 0.7% after dropping earlier in the day following news of another delay in Brexit negotiations between Britain and Europe Union leaders over their divorce deal terms.
Investors were encouraged by reports that UBS Group AG would buy back $5 billion worth of bonds issued during this year's market volatility, signaling confidence among banks regarding their ability to weather any potential economic downturns or shocks from geopolitical events, such as Brexit or trade wars with China and other countries. Additionally, central banks around the world have taken steps to inject liquidity into markets through quantitative easing measures such as cutting interest rates or increasing asset purchases – all helping bolster stock prices across many regions, including Asia Pacific nations like Japan, Hong Kong, and South Korea.
Overall, investors seem more optimistic now than they did at the start of the week when fears surrounding the global banking sector were running high. With continued support from governments, central bankers, and major corporations alike, it appears these gains could be sustained going forward into the new year.
Read more at CNN