Apply to the 2023 CERN School of Computing: Seize Your Opportunity!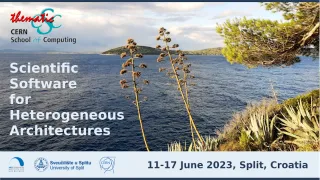 Are you looking to further your knowledge in particle physics, computing, or related fields? Then the 44th CERN School of Computing (CSC 2023) is for you! Taking place from 20 August to 2 September in Tartu, Estonia, and organized with the University of Tartu, this two-week program consists of 50 hours of lectures and hands-on exercises covering three main themes: physics computing, software engineering, and data technologies.
Upon successful completion, students will receive a diploma from the CSC as well as ECTS credits from Tartu University. The social and sports program also provides ample opportunity to explore some great cultural attractions that makeup Tartu's local region.
The CSC is open for postgraduate students (with a minimum bachelor's degree or equivalent), engineers, and scientists with a few years of experience in particle physics, computing, or related fields – applications are welcomed from all countries/nationalities. Limited financial support may be available too! Don't miss out on this amazing opportunity – apply now before 25 April 2023 at https://indico.cern.ch/e/CSC-2023!
Read more at CERN